Location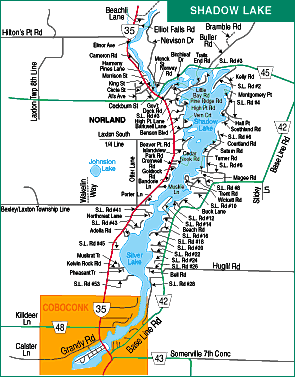 Copyright: Millhouse Maps, 2001
For information call - 1-877-794-4402
Click on graphic for larger/printable version
Located north of Fenelon Falls and East of Orillia between Coboconk and Norland, the area is in Ward 2, in the City of Kawartha Lakes.
The Shadow Lakes are part of an important Ontario watershed. From the Haliburton Area of the Canadian Shield water flows south to connect into the Gull River System. It flows from Horseshoe Lake in Haliburton into Gull Lake, then Moore's Lake, before entering Shadow Lake below the 12-foot dam at the crossroads in Norland. The flow then continues into Balsam Lake at Coboconk. Balsam Lake is the highest of the lakes on the Trent Severn Waterway, a world famous integration of 45 locks allowing watercraft to navigate the 386 km. (230 mi.) distance from Georgian Bay to Lake Ontario.
Shadow and Silver Lakes combined have many bays along their 11 km length, with a total shoreline of 41 km. These largely protected, landlocked lakes provide for calm waters and create splendid boating conditions including great water for canoeing, kayaking and sailing enthusiasts.
The flow and water levels of the Gull River/Shadow Lakes system is controlled through Dams operated by Parks Canada. If you wish information on this and or the Trent Severn Waterway, visit their Website